Biochemists classify vitamins based on their solubility in water and fat. Most vitamins are water-soluble, while only four are fat-soluble.
The solubility of vitamins determines the types of food with which they are absorbed. That is to say, fat-soluble vitamins are absorbed along with a fatty meal. Furthermore, one should take fat-soluble vitamin supplements along with or right after a fatty meal, not on an empty stomach or before meals.
A, D, E, and K are all fat-soluble vitamins. Being insoluble in water means they can't be excreted in urine to flush out the extra amount of vitamins in your body. This makes you susceptible to the risk of vitamin overdose (hypervitaminosis), in case you ingested larger than the recommended dose.
That is why before reaching for vitamin supplements in the store, you should speak to a doctor or a licensed pharmacist. Discussing the appropriate doses is important in order to avoid taking too much.
Below is a concise overview of the fat-soluble vitamins, their health benefits, functions, and main dietary sources.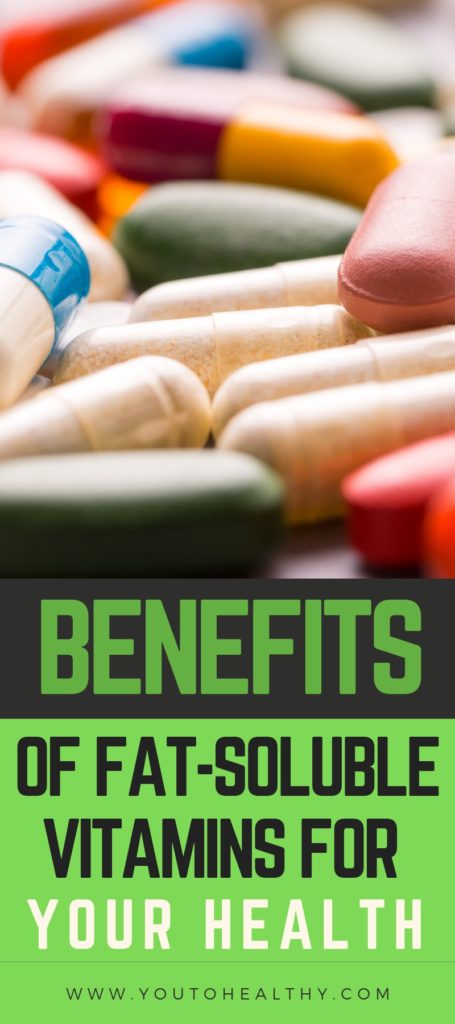 How Can Fat-Soluble Vitamins Help Me?
Vitamin A
Vitamin A is not a single molecule. Chemically, it is a group of fat-soluble compounds known as retinoids.
Retinoids come from two major sources: animals and plants. The former supplies your body with the active components to help create the whole molecule of vitamin A. However, the vegetarian source supplies you with the pro-vitamin form.
Animal sources include: fish liver oil, liverwurst, beef liver, butter and, to a lesser extent, egg yolk.
Vegetarian sources include: kale, carrots, and spinach.
Vitamin A supports several functions in your body. These include the renewal of skin and hair cells, visual health, replication of reproductive cells, and maintaining immune system functions.
Vitamin D
While calcium builds strong bones, vitamin D helps your body absorb calcium from your gut.
The nickname for vitamin D is the "sunlight vitamin", as you can take it in just by relaxing and unwinding at a sunny beach. It is the cheapest vitamin, because getting exposed to sunshine doesn't cost a penny. Sunlight crosses your skin and triggers a chain of chemical reactions that end in vitamin D synthesis.
Public health specialists note that many people don't spend enough hours in the sun. Even when they do, they often cover themselves in sunscreen and clothing. This practice can put them at risk of vitamin D deficiency. However, there are safe methods for exposing yourself to sunlight and getting vitamin D, as it often involves other risks.
Deficiency of vitamin D leads to bone thinning and fragility, weak teeth, impaired immune system, and depression.
The most susceptible people to vitamin D deficiency include the elderly and people living in the polar regions where sunshine is scarce. Residents of senior houses may also be susceptible, especially when they spend almost the whole day indoors. Lastly, dark-skinned people are also susceptible to a vitamin D deficiency because they have excessive melanin (dark brown pigment) in their skin that precludes sunlight from being converted to vitamin D.
Dietary sources of vitamin D include: fish liver oil, fatty fish, mushrooms exposed to ultraviolet light, salmon, fortified dairy products, and pharmacologic supplements.
Vitamin E
Vitamin E is a powerful antioxidant that protects your body tissues against aging features and easy damage. This makes it what we call a free radicals fighter.
As it's fat-soluble, vitamin E prevents oxidative stresses and protects fatty acids in your cell membranes from the noxious effects of free radicals (unstable molecules). In theory, that could add years to your life.
Vitamin E can prevent serious diseases such as hardening of the arteries, heart attack, and chest pain. In addition, it may help to prevent several cancers (oral, gastric, prostate, and pancreatic cancer).
Several dietary sources can provide you with vitamin E: wheat germ oil, sunflower seeds and oil, avocados, almonds, hazelnut, peanut butter, margarine, fatty fish and fish liver oil.
Vitamin K
Vitamin K is the blood clotting vitamin. It plays a pivotal role in blood coagulation, which is a critical process that stops hemorrhage and saves your life.
To a lesser degree, vitamin K supports bone health, prevents the hardening of blood vessels, and reduces the pathologic accumulation of calcium in the blood.
Parsley, kale, spinach, lettuce, butter, liver, and egg yolks are good dietary sources of vitamin K.
To Recap:
The four fat-soluble vitamins, A, D, E, and K, are essential for your health and play vital roles in your body functions.
Apart from vitamin D, which is present mostly in fatty fish and fish oil, eating a variety of food including nuts, seeds, vegetables, fish, and eggs, will help fulfill your needs for these vitamins.
Exposure to sunlight remains the ideal source of vitamin D. Vitamin D deficiency is a problem for people who spend most of their time indoors. Therefore, taking vitamin D supplements is widely recommended. However, you should only take vitamin K supplements under medical supervision to avoid serious bleeding.
It may be true that adding oil or buttery items to your meal would reinforce the absorption of fat-soluble vitamins from your gut. However, even though greasy food is rich in these vitamins, for optimal health, you should eat a balanced diet. This includes most, if not all, nutritional elements your body needs (healthy carbs, fat, proteins, vitamins, and fibers). It's also important to drink water generously and safely get exposed to sunlight.