In recent years, a lifestyle of healthy eating has become more popular. With people wanting to try various food choices like paleo, low carb, vegetarian, vegan, keto, and more, there are numerous ways to accommodate your diet.
One of the fastest rising diets is the vegan diet. The way it works is that you essentially kick meat, poultry, dairy, gluten, and sugars to the curb, leaving you (in general) with fruits, vegetables, legumes, and meat options.
Now, many people believe vegan food just doesn't taste as good as non-vegan food, but there are different ways to make vegan meals delicious. Many restaurants and food stores offer vegan food because the vegan diet has become quite a popular choice of food.
There's a whole culture surrounding vegan food! Just as the organic class made its way by customer demand, so have vegan options. Many believe that eating healthy and buying healthy foods simply costs too much, and they are better off buying something cheaper. While it's nice to save money, there are many vegan brands that are affordable and taste great!
Everyday Affordable Vegan Brands
I've compiled the best and most affordable vegan brands so you can see that buying healthy doesn't have to mean spending all your money. I spend about $150–$200 per week on food for a family of four. I know this is not everyone's budget, but my aim is to show you that eating healthy can be an affordable option for you, even if you start small and only buy a bit at a time.
1. Gardein
The Gardein brand includes "chicken" tenders, beefless ground beef, "chicken" nuggets, veggie burger patties, meatless meatballs, fishless filets, "turkey," and more.
Usually, for a bag of around 13 ounces, the cost is about $4. Yes, there could be a cheaper non-vegan alternative, but the nutrients you get with the vegan option are greater.

2. Lightlife
Another brand I've discovered is Lightlife. This brand offers "turkey" slices (for sandwich making), veggie dogs, "chicken" tenders, BBQ "chicken," lean "beef," and Asian-inspired "chicken" meals, and much more.
This brand is a particular favorite of mine because my six-year-old loves their products, so it makes dinnertime easier for the family.
The cost of this brand is similar to Gardein, so each frozen product costs about $4. I've noticed that this brand has the most to choose from of their meat alternatives, and they incorporate flavor for every taste bud.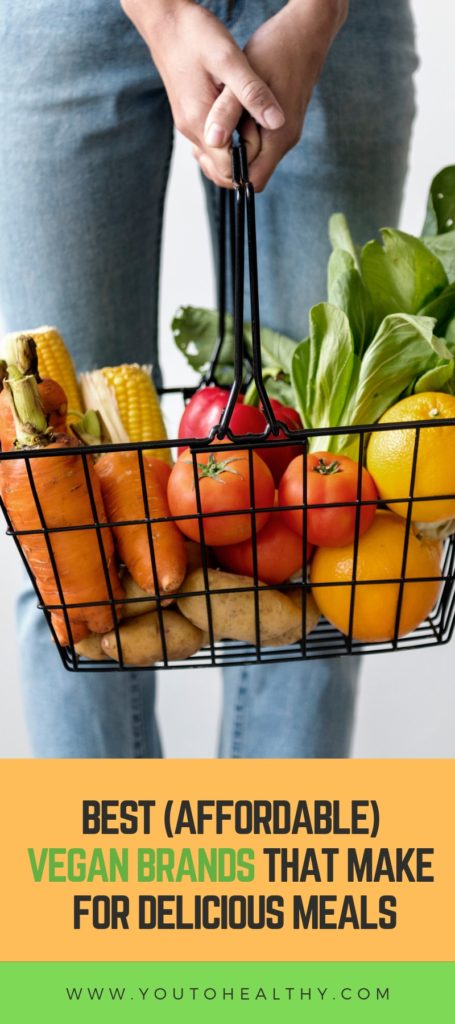 3. Amy's
This brand has countless food items that fall either in the organic or vegan and organic category. They have everything from their own version of bagel bites and burritos to meat alternatives. Amy's even has its own macaroni and cheese (for the little ones) at the same or a closely similar price as regular mac and cheese!
Amy's is another family favorite! This is also a favorite when it comes to kids, because they have so many options and not all are vegan. This brand is very accommodating. 
4. Trader Joe's
You may not have this store near you, but a personal go-to place of mine is Trader Joe's. A similar option would be Sprouts, or by my research, Publix isn't much different.
Trader Joe's products are healthy, organic, and taste fantastic! The Trader Joe's brand is one of the most affordable of the vegan products.
For example, they have a delicious beefless ground beef that you can use in pretty much any dish (eggs, pasta, tacos, etc.). Tip: the beefless ground beef is best cooked with pasta and marinara sauce.
While the frozen vegan section at Trader Joe's can be a bit smaller, you can use their refrigerated products to create more diverse meals.
Final Thoughts on Affordable Vegan Brands
The healthy side effects of eating more plant proteins are tremendous! Whether you must eat a vegan diet out of necessity due to medical issues or you want to be healthy, lose weight, have a food allergy, etc., this lifestyle is just that: a lifestyle.
For the busy mother who wants to put a healthy dinner on the table for her family, the college student who needs a quick meal, or the person trying to live a healthy lifestyle, this type of diet can be the one for you.
As you can see, there are many affordable options for frozen, fresh ingredients, pantry foods, cookies, drinks, and more that fit the vegan diet and any budget.
Do you have other suggestions for affordable vegan brands to share with us? We would love to know.