Skin is the largest organ in the body. Everything we interact with affects our skin. Weather changes can dry our skin. Some medical conditions can contribute to dry skin. Aging can be a factor in drying our skin. That being said, we must keep it hydrated.
Two valuable ways we can hydrate the skin are by taking in lots of fluids and sticking with a skin hydration routine.
We water the plants in our yard, but why do so many of us neglect to "water" our own bodies?
Eighty-three percent of your lungs, 73 percent of your brain, and 64 percent of your skin are composed of water. The human body's makeup of water is 70 percent for male adults, 60 percent for female adults, and 85 percent for newborns.
It's estimated that approximately 75 percent of Americans fall short of drinking the suggested 8–10 cups of water a day. This leads to skin dehydration and dryness.
To understand the big picture, let's take a look at different conditions your skin may be in.
Your skin is dry if it feels tight or itchy or flaky after taking a bath or swimming.
It's oily if it looks shiny, feels greasy, and commonly forms pimples.
Sensitive skin easily turns red and gets irritated and itchy. If you have regular skin, you seldom have any skin problems.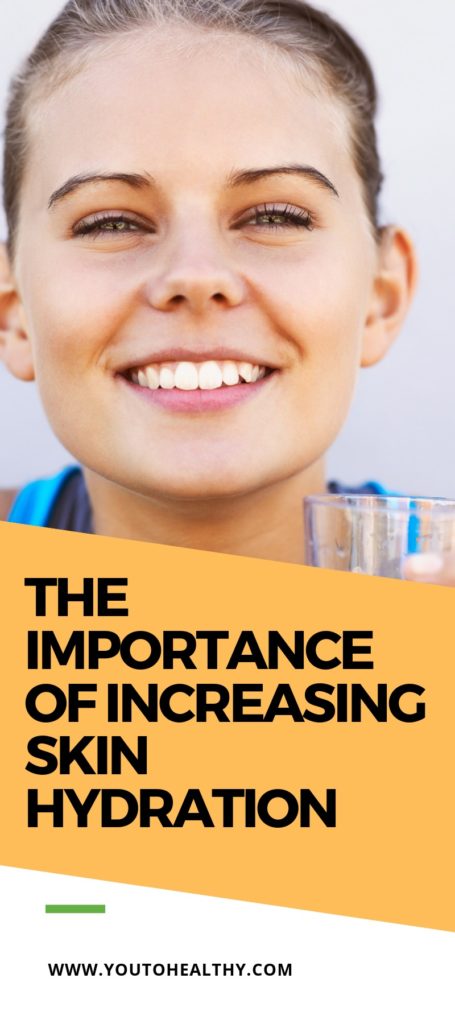 The Mechanism of Skin Hydration
In many circumstances, such as getting older, taking certain medications, or living in dry, cold, or low-humidity climates, your skin will be dry. Dry skin stems from your skin not producing enough lipid cells on its own.
Dry skin isn't a serious condition, though it can be quite bothersome. It's often temporary, as you may get it only in the winter. However, it may be a lifelong struggle if caused by a chronic medical condition or something related to your vocation or lifestyle.
Manifestations of dry skin ("xerosis" being the medical term), depend chiefly on your health, where you live, and the time you spend outdoors. The condition is more common in adults 50 and older, with more than 50 percent of older adults having dry skin. Dry skin can lead to one or more of the following problems:
A feeling of tight skin, especially after taking a shower, bathing, or swimming
Skin that feels and looks grey, rough, and ashen
Itching, that varies from mild to severe and may result in ugly scratches and possibly bleeding cracks
Redness
On the other hand, "dehydrated skin" is a parallel condition by which the skin dries up also. However, dehydrated skin has nothing to do with sweat production; it's simply skin lacking water.
Similar manifestations can arise from different causes such as long exposure to sunshine and performing exhausting exercises without replenishing the water loss that, inevitably, leads to body dehydration.
How to Create a Skin Hydration Routine
While excess sweating can cause dehydration, sweating also acts as a natural way for your body to hydrate your skin.
Sweating is a physiological process that keeps your skin moist and prevents dryness. Biologically, sweat forms a natural lipid barrier that covers the entire body surface to regulate water vaporization and prevent skin damage by friction.
Therefore, along with drinking a lot of fluids, hydrating skincare products are recommended. I suggest using hydrating formulas supplemented with hyaluronic acid, as it maintains collagen synthesis, retains skin moisture, as well as has anti-aging properties.
In addition, moisturizers can conceal dry skin's cracked and flaky appearance. They form an oily layer over the skin, simulating natural sweat to protect the skin, keep it moist, and alleviate signs and symptoms of dryness.
Apply a hydrating product first and a moisturizer second to make sure you're providing and retaining the necessary hydration and moisture your skin deserves all day.
Final Thoughts
Finally, no matter what your skin type or condition is, drinking plenty of water is the cornerstone of hydration and an effective skin hydration routine.
Pair that with hydrating and moisturizing skincare products as well as protecting your skin from extreme weather; your skin will thank you for it.
Do you follow a skin hydration routine? How does hydration improve your skin? Let us know in the comments below.