HIIT, or high-intensity interval training, is a series of short workout sessions, using the maximum power and speed of the individual to get the greatest fat burn. It is not only great for optimal fat burning during a workout, but also for a variety of things including weight loss, muscle strength, and endurance, as well as functional skills for the body.
HIIT increases the rate of force production. Essentially, this is your muscles' ability to apply the greatest force in the shortest amount of time. To say you'll break a sweat is an understatement!
HIIT is great if you only have 10-30 minutes or so to exercise, or if you want to add it to your usual workout routine.
It's much easier for trainers to design this type of program for an individual. This is because they understand the body really well. They calculate what the HR (heart rate) needs to be and how to maintain it, while using other factors to determine the right workout.
For beginners, there are self-education materials you can use to really put the science into your workout. This way you start to incorporate HIIT workouts into your routine in an easy way.
I will also be providing you with a few beginner workout examples below that you can try. Always remember to consult a medical professional when starting a new workout, especially if you have a condition.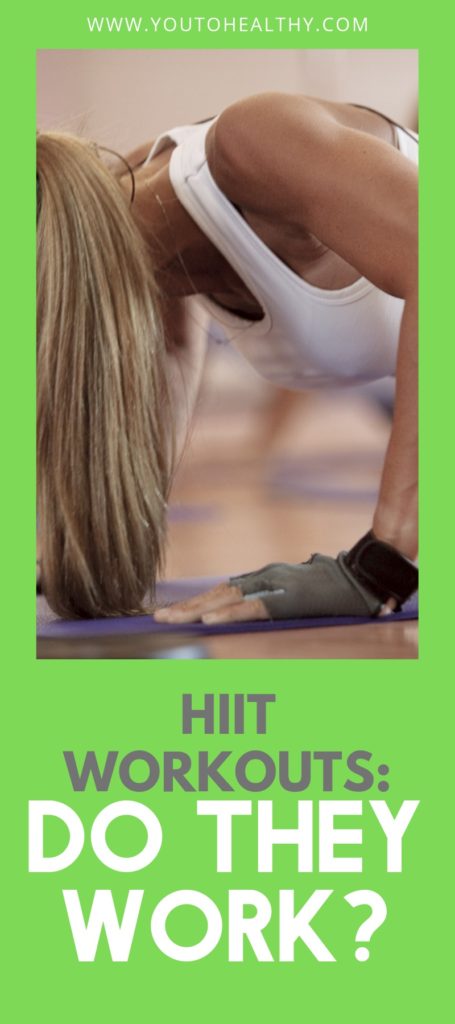 Benefits
1. Burn, Baby, Burn!
HIIT workouts effectively and efficiently burn fat and can be done in half the time of other traditional workouts. This isn't to say that you should skip other workouts or that they aren't good enough. HIIT workouts can burn fat more quickly. So, if you are looking for a quick, intense workout that'll get the job done, this is a great one.
2. Weight Loss
Along with burning fat, you'll notice weight loss! This is a major motivator to do HIIT workouts. Because it uses the individual's power and speed as a combo, HIIT will certainly shed some of that unwanted weight. I've been integrating HIIT into my postpartum workouts and have seen fantastic results thus far!
3. Less Time In The Gym
For those that don't have as much time at the gym, this is a great feature of HIIT workouts. You can spend 10 – 30 minutes doing HIIT workouts, and it'll be just as effective as lifting or doing cardio for longer.
You can get a maximizing sweaty session in just under 30 minutes and enhance your fat burn instead of doing that dreaded 30 minutes of cardio, plus lifting! This is not to say that those workouts aren't effective. This is just a good side effect of HIIT workouts: you can do them in less time.
So for the busy parent, for someone who may have more than one job, students who may not have enough time, etc., this is a fantastic way to work out when you're busy and get the most out of it!
4. Can Be Done At Home
This is a great aspect of HIIT! You can definitely do a variety of HIIT workouts from home. Not all HIIT sessions have to involve weights or a cardio machine, so you can do HIIT comfortably in an open area of your home, or even outside!
I know for me, as a working mom of two, there are days when there's just a lot going on. You may not feel like going to the gym, or the gym closes by the time you have a half hour, the kids might have a snow day, and more. The fact that these workouts can be done at home is a lifesaver!
Examples of HIIT Workouts for beginners
As promised, here are some examples of beginning HIIT workouts that can be done at home or at the gym. You can modify these to whatever will fit your needs (i.e. adding/dropping weights, altering times). These can be done separately, or as a set (30 seconds x 3 sets).
1. Burpees With a Weighted Item (dumbbell, ball, etc.)
2. Squat Jumps
3. High Knees
4. Back lunge With Kick Back (can be done weighted or not weighted)
Those are some great sets of HIIT workouts that can be done anywhere.
Final Thoughts
While there is no bad workout, there are ways to make your workouts better! HIIT seems to be the bee's knees when it comes to optimal fat burn and working out for the shortest amount of time. There is so much material supporting HIIT workouts and what they do for our bodies.
The short answer to the question "Is HIIT worth it?" is YES. Whether you do it at home, the gym, outside, inside, or at a friend's house, you can spend 10-30 minutes and experience all of the benefits mentioned above. You can add it to your own workout routine, do it as a stand-alone workout, or incorporate it into your cardio.
Welcome to the chameleon of workouts!