Licensed dietitians are specialized in the field of diet and nutrition. They serve average folks as well as people with specific dietary needs. Dieticians utilize a multilateral approach for treating obesity and helping people lose weight.
While the help of a dietitian can bring great results in weight loss, there is more to losing weight than strictly changing dietary habits. If you want an athletic physique with a flat belly, you're going to have to expand your approach to weight loss.
Weight Loss Secrets You Need to Know
Before you fall for a fad diet, a little bit of research will help you make an educated choice as to which direction to take in your weight loss journey. Dietitians play a major role with proper guidance, but here are some weight loss secrets they don't tell you.
1. Obtaining a Perfect Body Composition Is a Mindset
Indeed, it is a life-long commitment and a promise to your body that you have to keep. Pick a few dietary routines that you`ll be able to carry out and stick to for good.
Because rebound weight gain is a common setback, you may need to incorporate an ongoing weight loss program into your habits and your lifestyle.
2. Losing Weight Is a Long-term Commitment
Many people fail to maintain their weight loss and can end up returning to what they weighed before they lost the weight. Some end up gaining back even more weight. You don't want that to happen to you. After you lose weight, it's important to look for different ways to stay fit and avoid regaining the weight you lost.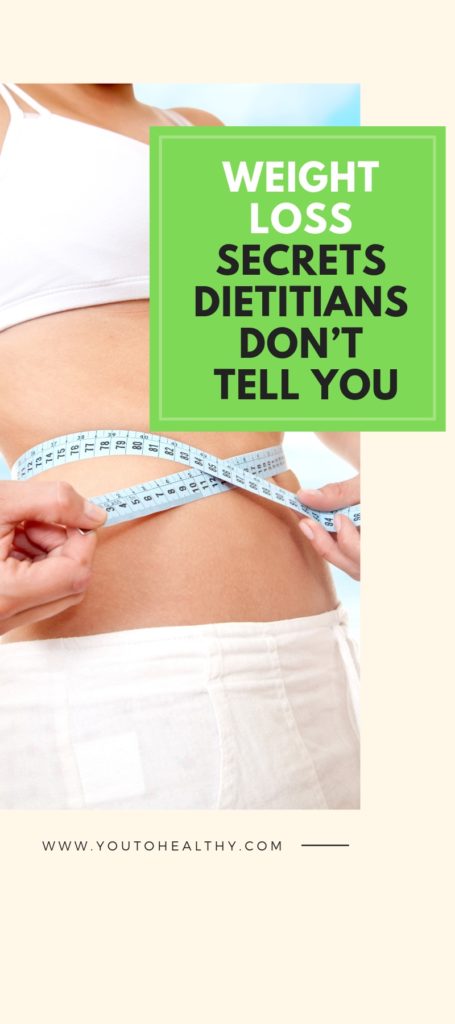 3. You Might Need to Complement Your Diet with Supplements
The diet you eat might not be enough for what your body needs, no matter what variety of food you eat or what dietary regimen you are on. Essential nutrients are defined as those required by the body for the biological process, but that the human body cannot synthesize. Some examples include Omega-3 and Omega-6 fatty acids.
Food supplements such as iodine and vitamin D are fundamental for those who live on the top of mountains or in the Polar Regions. That is because those areas receive a limited amount of sunshine, which may hinder an individual's absorption of vitamin D through the skin.
Other essential supplements are related to certain age groups and special conditions. Infants must get enough calcium, postmenopausal women should be sure to meet their body's need for adequate calcium, phosphorus, and vitamin D, and men over 50 should use a zinc supplement for prostate health.
Recommendations for the elderly include taking trace elements like selenium and magnesium for brain vitality. Pregnant women have to maintain sufficient levels of iron and calcium. Diabetics are advised to take a vitamin B complex to maintain nerve ending functions.

The proper integration of healthy foods and dietary supplements is pivotal. Adding supplements is a great way to ensure that your body is getting what it needs to thrive. You may also add a probiotic supplement, which can serve as an appetite suppressant.
4. Dietitians' Plans to Lose Weight Without Exercise Are Insufficient
Some dietitians state that you can lose weight by focusing solely on your diet and not worrying about exercise. However, if your goal is to lose weight and have a fit body, then diet alone will be insufficient. Obtaining a healthy physique relies on three pillars: diet, exercise, and perseverance.
The fat you lose from dieting has to be replaced by muscle. You build muscle by exercising, and maintaining your ideal weight is done through perseverance. Dieting is the perfect first step to begin building a healthy body. Avoid extreme dieting or starving yourself because while it may strip away that extra fat, it also can cause your muscles and bone density to waste away.
Concluding Thoughts on Weight Loss Secrets
Dietitian's recommendations can be very helpful. But if those recommendations involve changes to diet alone, the chances of you succeeding in your weight loss journey—and those successes being long-term—may be slim.
The course of weight loss through diet may take several weeks, even months. To get the most out of dietary changes and attain the body you want, you must gear up your determination, add supplements as needed, include a solid workout routine, and focus on building a mindset of perseverance.
What are some other weight loss secrets that nobody shares?