Finding the right skin products can be a grueling task, especially if you have sensitive skin. It can feel like everything makes your skin red, makes you break out (if you're like me and prone to adult acne), or dries out your skin. Either way, it can take time to find quality face masks for sensitive skin. We want to help!
I have been on the search for a great mask for about as long as I've had acne (since being a teenager). My skin is sensitive enough that I also need to switch up my routine every once in a while. Otherwise, my skin won't respond to the products I'm using. If you're someone who deals with this issue, then I'm right there in the trenches with you. Skincare is one of those activities where sometimes it can be hit or miss…especially with people who have more sensitive skin.
Over the years, I've stuck to a main group of facemasks that have helped transform my skin and keep it under control. If you're anything like me, these masks may be just what you need to help give your skin a little TLC.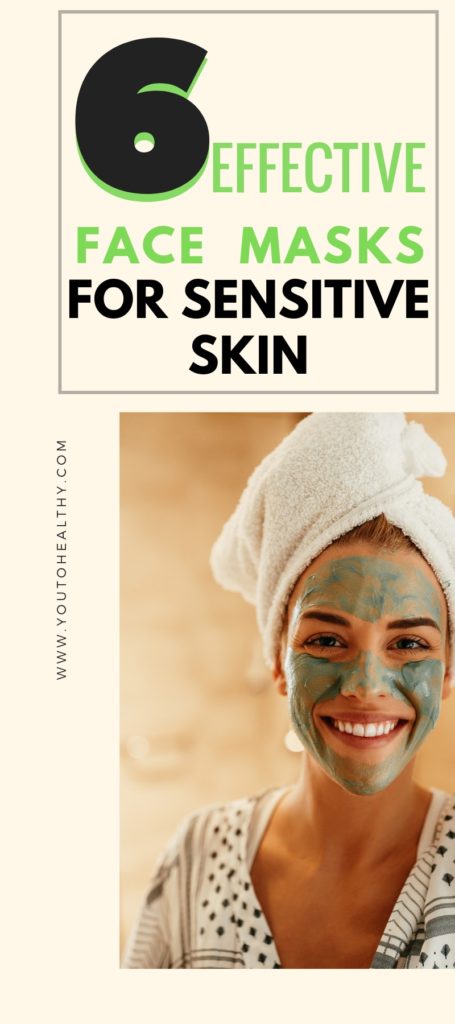 1. Clay Mask by Sephora
Sephora has a great selection of face masks from their own brand. They aren't expensive, which means you can snag four to six of those babies in one trip and try them all out! They have masks for detoxifying, toning, tightening, brightening, hydrating skin, etc.
The mask I use is the White Clay Mask by Sephora Collection for re-mineralizing and soothing. It has wonderful effects on my sensitive skin.
2. Polishing Charcoal + Black Sugar Mask by Freeman
If you're looking for something that gives more in volume and costs less, this is your go-to face mask! I especially love their Freeman Polishing Charcoal + Black Sugar Gel Mask and Scrub because it really gets into the pores and helps with blackheads.
This brand offers peel-off and wash-off masks for plenty of different uses! I've noticed these masks often at Wal-Mart, Raley's, Smith's and other similar stores.
3. SUPERMUD Activated Charcoal Treatment Mask by GLAMGLOW
GLAMGLOW is in my top six face masks for sensitive skin because it has helped tremendously with smoothness. It truly sinks down into my pores and helps my acne.
You will find different kinds of masks with this brand, but my favorite by far has been their "SUPERMUD Activated Charcoal Treatment Mask." It has changed the way my skin behaves in terms of breakouts and blackheads. It's not cheap, but it's worth it.
You can find GLAMGLOW at Sephora! I also love the GLAMGLOW Glitter Mask as a firming treatment. It works great on sensitive skin!
4. Cucumber Gel Mask by Peter Thomas Roth
I absolutely love the Cucumber Gel Mask by Peter Thomas Roth. This cucumber mask is fantastic for sensitive skin and redness, so I use it often.
The quality is great and the best part is that you can buy it once every few months at the least, since it does last a while. You can find it at Sephora.
5. Clear Pore Cleanser/Mask by Neutrogena
Neutrogena has one of my all-time favorite face masks for sensitive skin: Clear Pore Cleanser/Mask! This is a great cleanser and clay mask, ideal for use in the shower because the steam will feel real. It helps the mask work deep into the skin.
This product is affordable and can be found at stores like Wal-Mart and Target. I use this one all the time!
6. Clearasil® Acne + Marks Wash and Mask
I have adult acne, so when my skin needs a change of pace and maybe a break from the norm, I move to Clearasil® Ultra Acne + Marks Face Wash and Mask. This is a great way to refresh and brighten your skin. It is also a good one to use in the shower as the steam will help get the mask into your pores.
Even if you don't have adult acne breakouts, this is a great face mask product to use because it can break down into your pores and help with blackheads and other problems. Not only that, but it is a great back-up mask to keep around for when the others run out.
Final Thoughts
Sensitive skin is an issue that many people have, but it shouldn't make you go out of your way to keep happy.
If you or anyone you know is suffering from sensitive skin or adult acne that is super stubborn, now you know about some great skincare products that can help.