Aging is the chronological advancement in age. It's also defined as the process by which a living creature gets older.
In humans, aging represents the accumulation of physical, psychological, and social changes in a human being over time. Chronologically, aging cannot be reversed, but changes related to aging can be ameliorated naturally.
Aging is the greatest known risk factor for most human diseases, and about two-thirds of people die from age-related causes. Different major health killers include heart disease and cancer.
There are a large number of foods and medicines that help hamper aging manifestations. As your skin is an honest mirror that reflects your internal health, stuffing your diet with food rich in antioxidants, healthy fats, and essential nutrients will be reflected positively on your skin, brain, joints, and internal organs.
The essential elements that fight changes due to aging are calcium, potassium, manganese, phosphorus, fibers, folate, lutein, collagen, and a variety of vitamins like A, C, K, and B. Anti-inflammatory and antioxidants agents top the list.
The main mechanisms of retarding the aging process are enhancing oxygenation, neutralizing harmful free radicals, and preventing collagen loss. Furthermore, they may uphold your immunity and aid digestion.
If you want to reverse the aging process in a healthy and natural fashion, you should consider consuming more of these items:
What Are The Best Foods to Reverse the Aging Process?
Red bell pepper, when fresh, is composed mostly of water (92%). The rest is made up of carbohydrates and small amounts of protein and fat. It is remarkably high in vitamin C as it provides 169% of the daily recommended allowance (RDA) of this vitamin. In addition, it contains carotenoids that help protect your skin from sun damage, pollution, and environmental toxins.
Papaya is my favorite fruit and is a delicious source of minerals, antioxidants, and vitamins. It helps improve skin elasticity and delay the emergence of fine skin lines, wrinkles, and folds. It has the ability to help your skin shed damaged cells and generate new ones. This kind of exfoliating properly leaves you with glowing, lively skin. Papaya is better served at breakfast, and it can be used as a night face mask.
Berries are known for their antioxidant properties. Of all the berries in the berry family, blue and acai berries stand out. The acai berry is a plant of the Amazon basin in Brazil known as the "super fruit" that tastes like a blend of chocolate and berries with a slight metallic aftertaste. Berries may help protect skin from stress and pollution by ameliorating the inflammatory response and reducing collagen loss. Moreover, they may support cognitive brain functions and reduce the risk of a heart attack. Berries can be served in a bowl or sipped as a juice. An artistic way to serve them is to include some in a morning smoothie.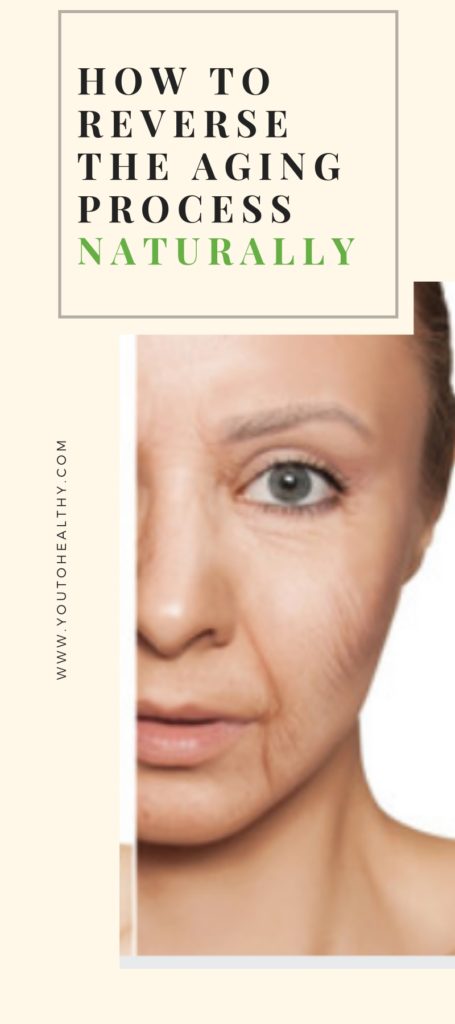 Broccoli has a dual anti-inflammatory and anti-aging feature. It is rich in Vitamin C, which boosts your skin and cartilage with strength and elasticity. It can be served cooked or steamed as a light snack.
Almonds stand out in the nut group as a great source of Vitamin E, which may help repair skin tissue, retain skin moisture, and protect skin from damaging UV rays.

Other foods rich in anti-aging ingredients include spinach, avocado, watercress, and pomegranate seeds.
Healthy Habits Reversing the Aging Process
Apart from proper dieting, here are a handful of habits that can help you live longer:
1. Socialization
Live well with your family and hang out with your best friends frequently.
Research has shown that failing to reach out to loved ones puts you at a greater risk of depression and a shorter life span. Socialization reduces your risk of heart disease and boosts your immunity.
On the other hand, loneliness and social isolation might lead to immobilization and joint inflammation and can be as dangerous as having high cholesterol or smoking.
2. Live smoking free
Perhaps the strongest decision you can make for your health is to quit smoking.
A study published in the American Journal of Public Health found that women who quit smoking by age 35 add approximately six to eight years to their lives.
Keep in mind that it's never too late to stop wasting your time and money on maintaining a smoking habit. The probabilities of surviving chronic conditions like heart and lung failure have been reported after quitting.
3. Exercise
Exercising daily boosts your health, fitness, and well-being with energy and vitality.
Experts have found that regular high-intensity exercise can add up to four years to your life. This could be explained by the rejuvenation of your heart, joints, and mental health.
Final Thoughts about Reversing the Aging Process
Aging is an unstoppable process. Though you might not be able to add years to your life, you can add life to your years by following these tips to reverse the aging process.
To make that objective plausible, enjoy your life by taking care of your health and well-being.
What other strategies do you use to reverse the aging process? Let us know in the comments below.