Exercise is one of the components that makes up a healthy, balanced lifestyle. It's generally encouraged that we exercise on a regular basis. But have you ever struggled with deciding where to do your workout? Finding the best place to work out is an important part of any exercise regimen.
For most of us, the answer is simple: head to the gym. But that option isn't always available. And for those who are undecided whether to work out at home or elsewhere, what are the pros and cons of each? What's better for me and my lifestyle? Which one is better in the long run, and can help me accomplish my goals?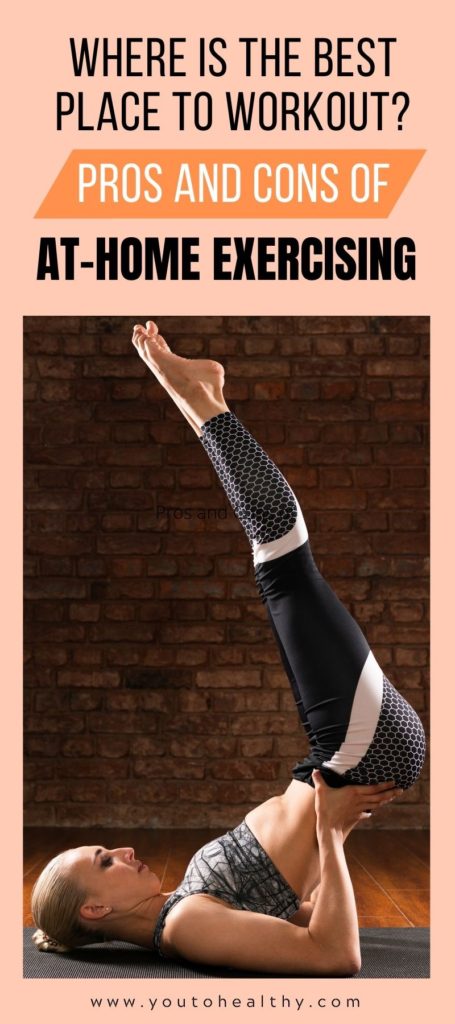 Home Workout
Contrary to what you might think, you don't need to head to the gym in order to get a good workout.
As it happens, with the right workout routine and tools (which usually constitute very little), you can actually get fit without ever having to leave your house! In fact, most home exercises can be completed in your living room.
Considering that your house may be the best place to work out? Here are the pros and cons of exercising at home:
Pros
Ease of access: Obviously, working out at home is extremely convenient. For most people, it's a struggle to head to the gym, so they don't go. But in this case, your gym is only a few feet away, so there's no excuse! Plus, Youtube has thousands of at-home workouts (cardio, HIIT, etc) you can do easily, without fancy or hard-to-use gym equipment.
Price: There's no gym fee to pay when you work out at home. In fact, the only thing you would have to pay for is a yoga mat or some weights (though these can be substituted for a blanket or empty jugs of milk or water). Overall, working out at home is a very low-cost option that you definitely can't beat.
Privacy: For some people, working out at the gym can be embarrassing. Who wants to be around people while you're trying to exercise? If you find it difficult to work out with people around or feel self-conscious, consider working out at home when no one's around.
Cons
Hard to be motivated: Some people actually find motivation by working out at the gym. Once you go, there's no option but to exercise. At home…not so much. There's plenty there to distract you and you may not feel up to working out when you could do something else.
Not much equipment: At the gym, there's no limit to the equipment that you can use depending on what your goals are. At home, you don't have access to the equipment, special classes, or fitness trainers that a gym offers.
Gym Workout
For many people, signing up for a gym membership is the first step in a successful health regimen. However, fitting in a trip to the gym before or after a long day isn't always easy. So, here are some pros and cons to a workout at the gym:
Pros
Options: Unlike exercising at home, working out at a gym grants you access to tons of equipment. Whether you're looking to work out your arms, legs, or core, there's probably a machine for that.
Benefits: One of the pros of working out at the gym is that it allows you to participate in exercise classes and gives you access to personal or group trainers who will assist you in doing your exercise properly (who wants to get hurt while stretching?). And there are several other perks gyms can offer, like tanning beds, massage chairs, discounts on select products, and more!
Cons
Expense: There's no beating around it: gyms can get pretty expensive. The cost of a monthly membership can add up quickly.
Crowds: You're not the only one looking to get a workout in; so is everyone else. This, unfortunately, can lead to the equipment you want to use being taken and having to wait until one is available.
Conclusion
Clearly, there are pros and cons to working out at the gym or your home. When choosing the best place to work out, it's important to do what works for you, fits in your personal schedule, and will help you reach your goals.
Where do you like to exercise? Let us know in the comments!